The importance of a healthy diet for breastfeeding
Giving your baby the breast for the first time following birth is a really special moment in a mother's life. In the beginning, breastfeeding can be a bit of a bumpy ride, but moms should trust in their bodies and their child. Sooner or later every mom and baby will find their own rhythm.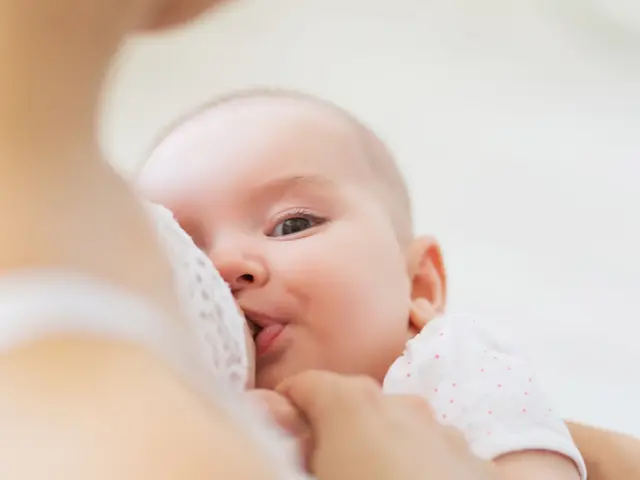 Breast milk is the ideal mix of nutrients for the baby. Its composition adapts superbly to the needs of the child at each developmental stage: From the substantial colostrum (first milk) to the mature breast milk, the mother's own milk offers everything which a child needs for a good start in life.
A conscious and balanced diet plays a key role here. The healthier mom's diet is, the better her baby will be nourished. This is because all essential vitamins and micronutrients are passed on to the child via the mother's milk.
Nutrient and energy requirements are higher during breastfeeding than during pregnancy
A balanced and wholesome diet for the breastfeeding mom – with plenty of fresh fruit and vegetables, nuts, dairy products and occasionally fish, meat and eggs – is ideal. Carbohydrates form the broad nutritional basis. However, wholemeal products, cabbage, onions and garlic should be avoided in the early days because these foods can often cause your child to have wind.
And very important: Drink plenty! Besides still mineral water, herbal teas (particularly fennel tea), nursing teas as well as diluted juice are good choices. Peppermint tea and sage tea hamper the production of breast milk and are therefore not suitable when breastfeeding.
Folic acid is also very important for mother and child during breastfeeding!
The fast-growing baby needs an extra portion of folic acid during breastfeeding. If exclusively breastfed, the baby receives this folic acid, like all other micronutrients, solely via the mother's milk. Folic acid (vitamin B9) is not only active in cell division and cell growth processes, but also contributes to normal blood formation and a properly functioning immune system.
Just as important as the supply of folic acid is the intake of vitamin B12, also known as the "auxiliary vitamin" to folic acid. Vitamin B12 supports the normal formation of red blood cells and normal energy metabolism. Particularly on a low-meat or meat-free diet, it can be difficult to meet the body's requirements for vitamin B12 from food alone.
Vitamin D3 plays a major role in the development of normal bones and muscle function and contributes to a properly functioning immune system in the baby.
The mineral iodine is needed for the formation of the thyroid hormones, which in turn are vital for the child's development. Iodine also supports normal functioning of the nervous system and energy metabolism.
To ensure the baby receives an optimum supply of these micronutrients, nursing moms are advised to supplement their diet with Folio 2 basic until the end of the breastfeeding period. The mini tablets contain 400 micrograms of folic acid, 9 micrograms of vitamin B12, 20 micrograms of vitamin D3 and 150 micrograms of iodine.
If iodine should not be taken for medical reasons, mothers can also choose Folio 2 basic iodine-free.
All Folio 2 basic products come in a practical, easy-to-use click dispenser. Just one mini tablet per day is swallowed whole with a little fluid during a meal. The tablets are free of gluten, nanoparticles, lactose, fructose, preservatives, as well as artificial colorings and flavorings. One pack of Folio 2 basic or Folio 2 basic iodine-free is sufficient for three months.
This might also interest you